A Level Results Day 2020
by Vashti Turner on August 13, 2020 in Academy News Exams Oxbridge Sixth Form
KAA is delighted to announce this year's outstanding A Level results below. As in previous years, the results are well above national average and are testament to the hard work and talent of our students and staff.
Although students were not able to take actual exams this year due to the pandemic, these results still have significant validity. They were calculated based on students' performance in mock exams and coursework, and moderated nationally to ensure fairness between schools.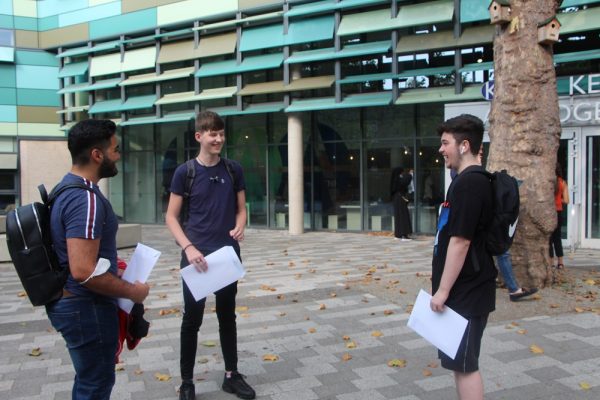 The results are provisional at this stage and may increase further based on appeals.
| | 2020 Results | 2019 (for comparison) | 2018 (for comparison) |
| --- | --- | --- | --- |
| % A* - B | 50.9 | 49 | 62 |
| % A* - C | 81 | 75 | 85 |
| % A* - E | 100 | 100 | 100 |
| Average Grade | C+ | C+ | B- |
| KS5 Progress* | 0.22 | 0.24 | 0.34 |
*(0 means average progress, 0.3 means students perform a third of a grade better with us than their equivalents in other schools)
Most importantly, these results allow students to progress to into quality university or apprenticeship courses. There are too many examples of student success to share, so we have just pulled out a few below:
Fiza achieved three As and will be studying medicine at St George's next year.
Ibrahim, who moved to London from Sudan as a refugee just two years ago, has gained a place at King's College to study Philosophy, Politics & Economics in September.
Vicky achieved 3 A*s and will be studying Chemistry at Jesus College, Oxford in September. This morning when collecting her results Vicky said she was very happy as "it was very nerve racking as I didn't know how it would work out. With exams, you can guess how you might have done, but with this I just didn't know."
No responses to A Level Results Day 2020