Sixth Form
What makes KAA the best choice for me?
KAA Sixth Form offers an experience that is totally unique in the state sector. No other school can boast the incredible facilities, elite partnerships, and expert teaching which we have here at KAA.
Our Sixth Form was rated 'outstanding' by Ofsted in 2017, and over half of our students have progressed to top Russell Group Universities, with a small number to Oxbridge each year.
The benefits of studying at KAA Sixth Form include:
---
Educational Partners
KAA is part of a consortium with two elite independent schools: Godolphin & Latymer and Charterhouse. These two institutions are amoung the best private schools in the UK, with a rich history in educating this country's future leaders. Fees are more than £30,000 per year, but KAA students receive access for free. No other academy has such prestigious partnerships to offer. Specific benefits of the consortium include:
• The opportunity to study A-Levels in certain courses at Godolphin
• Regular subject seminars and lectures at both Godolphin and Charterhouse for all KAA students, to extend their sixth form education and enhance their CVs
• Support with university applications for all KAA Sixth Formers at Godolphin and Charterhouse: help selecting courses, completing UCAS forms, and writing personal statements. For details of our first sixth form cohorts' successful university applications, click here.
• Mock interviews for all Oxbridge candidates at Godolphin & Charterhouse
• Extensive enrichment opportunities in music, sport, drama, art and debating at both schools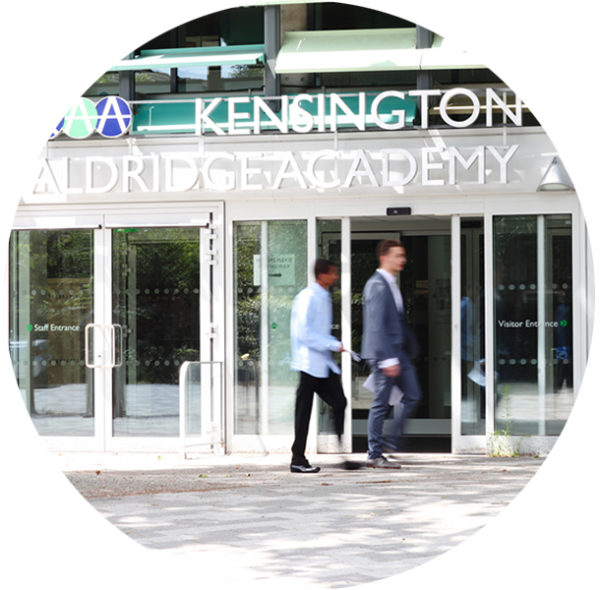 ---
Performing and Creative Arts
KAA is a performing and creative arts academy, partnered with LAMDA and the Royal Academy of Dance. This means we have world class facilities and expert teaching for music, drama, art, dance and design technology. We harness the expertise of our partners LAMDA and the Royal Academy of Dance to give students opportunities that you would rarely find in a state school.
Whether or not you are studying courses in these subjects, or just participating in the school production or a dance enrichment class, you will benefit so much from the fact that KAA has creative and performing arts weaved into the fabric of the school.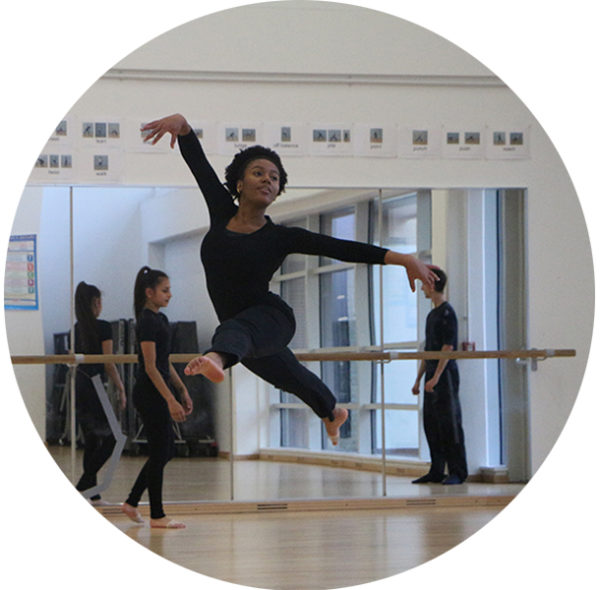 ---
State-of-the-art Facilities
Our sixth form students have the chance to spend two years studying in one of the greatest parts of London. KAA is just minutes from Portobello Road, Notting Hill Gate and Holland Park – three areas which are world famous for their shopping, parks, restaurants and culture. North Kensington is a vibrant, buzzing, creative community and we are proud to be right at its heart.
Distinctive features of our building include:
• A high-spec, dedicated Sixth Form Centre and library for students to relax in and engage in independent study
• A professional theatre, built to a West End standard
• Our own sports hall and dance studio
• A safe, enclosed rooftop football/sports pitch
• Specialist performing and creative arts classrooms for drama, art and performing arts
• Multiple music classrooms and practice rooms and a professional recording studio
• State of the art design technology rooms, including Graphics, Resistant Materials, Food Technology and Textiles
• Flexible IT spaces for independent work
• The Kensington Creates Entrepreneurial Centre
---
Expert Teaching
At KAA we offer our students a traditional, academic curriculum, with a modern, creative twist, delivered by expert teachers. The following A-Level courses are available to study at KAA Sixth Form. The vast majority of KAA Sixth Formers will study 4 A-Levels. Students must choose one subject from each option block and, on the application form, students will be given the chance to express additional preferences. If there is sufficient demand, the option blocks can be changed when the timetable is constructed and there may be changes to this blocking.
| Block A | Block B | Block C | Block D |
| --- | --- | --- | --- |
| Psychology | Psychology | Psychology | Psychology |
| Maths | Maths | Maths | Maths |
| Chemistry | Chemistry | Chemistry | French |
| Drama | Biology | Biology | Biology |
| English Literature | Fine Art | English Literature | English Literature |
| Physics | Music | Physics | Physics |
| Geography | Computer Science | Computer Science | Geography |
| Spanish | Further Maths | Economics | Further Maths |
| History | History | Government & Politics | Government & Politics |
| | Religious Education | Religious Education | Dance |
| | | Physical Education | |
---
Level 3 BTECS
BTEC Performing Arts is ideal for students with a passion for Dance, Music and Drama and an ambition to build a career in the Theatre, TV or Film. With a BTEC in Performing Arts, students will gain valuable hands-on experience which can take them straight into a career in the industry, or prepare them for a range of performance based degree courses. We are privileged to have support from Fremantle, one of the UK's best known TV & Film companies, in delivering this course. Fremantle's sponsorship will allow our students access to industry level expertise and professional placement opportunities.
BTEC in Applied Science is ideal for students who have a great interest in all three science specialisms. It is a well-regarded qualification, recognised by both industry and higher education institutions, which will allow students to progress straight into the workplace or continue with their academic studies. Alongside compulsory units based upon practical techniques and investigation skills, optional units will allow students to explore cross-curricular concepts including physiology, astronomy and forensic sciences.
Students can combine a BTEC with one or two A Levels, depending on whether they take the extended certificate (one A-level) or the diploma (two A-levels). If you are interested in either course please indicate on your application form.
---
Godolphin & Latymer A Level Courses
In addition, the following A Level courses are available to study at our partner school Godolphin & Latymer. Students will have to travel between KAA and Godolphin for these lessons (just three tube stops – a 20 minute journey which will be built into their timetables). These subjects are only available to female students, as Godolphin is a girls' school.
Whilst all KAA sixth formers benefit greatly from our partnership with Godolphin & Latymer, only a very small number will be able to actually study an A-level there. The option is only available for courses where Godolphin have availability once their own students have made their choices. If there is a space, applicants will need to meet the entry criteria for Godolphin, which is seven A*- B grades at GCSE, with an A or above in the subject you wish to study. Applicants will have to pass an interview at Godolphin. For these reasons we strongly recommend that you choose KAA because you want to study here, benefitting from the partnership in its wider form, and not solely because of the change to take a subject at Godolphin. Applicants may only apply for one subject at Godolphin, and should have a back-up KAA option in case they are unsuccessful.
Taught @ Godolphin & Latymer (Female Students Only)
Classical Civilisation
Italian
History of Art
Mandarin
Ancient History
Latin
All courses (both at KAA and at Godolphin) are dependent on sufficient numbers of students; where there is insufficient demand, a course may be withdrawn.